Wat is Procore?
Procore Technologies, Inc. is 's werelds meest gebruikte constructiebeheersoftware, en helpt bedrijven de projectefficiëntie en aansprakelijkheid drastisch te verhogen door projectcommunicatie en -documentatie te stroomlijnen en te mobiliseren en uiteindelijk de winst te vergroten. Procore stelt bouwprofessionals in staat om samen te werken aan projecten vanaf elk met internet verbonden apparaat, waarbij ze toegang hebben tot alle projectdocumenten, contracten, RFI's, indieningen, planningen en tekeningen en meer.
Wie gebruikt Procore?
Procore is ontworpen voor een verscheidenheid aan eigenaren, algemene aannemers, CM-kantoren, architecten, ontwerpbureaus, ingenieursbureaus en gespecialiseerde onderaannemers.
Waar kan Procore worden geïmplementeerd?
Cloud, SaaS, Web, Android (mobiel), iPhone (mobiel), iPad (mobiel)
Over de leverancier
Procore Technologies
Gevestigd in Austin, VS
Opgericht in 2001
Telefonische ondersteuning
24/7 (contact met medewerker)
Chatten
Talen
Duits, Engels, Frans, Spaans
Over de leverancier
Procore Technologies
Gevestigd in Austin, VS
Opgericht in 2001
Telefonische ondersteuning
24/7 (contact met medewerker)
Chatten
Talen
Duits, Engels, Frans, Spaans
Video's en afbeeldingen van Procore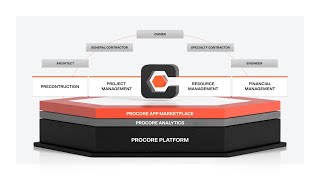 Vergelijk de kosten van Procore met soortgelijke producten
Functies van Procore
2D-tekening
Aanpasbare sjablonen
Aansturing van onderaannemers
Apparatuur bijhouden
Beheer van offerteaanvragen
Beheer van onderaannemers
Beheer van verkooppipeline
Beheer van wijzigingsorders
Bestanden delen
Biedingsbeheer
Budget volgen / taakuitgaven
Budgettering/prognoses
CRM
Compliancebeheer
Contactenbeheer
Contract- en licentiebeheer
Database met onderaannemers
Debiteuren
Documentbeheer
Documenten opslaan
Elektriciteitsschatting
Factureren
Factuurbeheer
Gantt-/tijdlijnweergave
Gegevens importeren en exporteren
Historische database
Incidentenbeheer
Informatieverzoeken en aanvragen
Inkooporderbeheer
Inspectiebeheer
Integratie in de administratie
Integraties van derden
Klanten volgen
Klantenbeheer
Kostendatabase
Kostenschatting
Kwalificatie bijhouden
Leveranciersbeheer
Materiaalonderzoek
Mobiele toegang
Offertes
Ontwerpmodellering
Opmerkingen/notities
Personeelskalender
Plannen
Problemen bijhouden
Productiekosten
Projectadministratie
Projectbeheer
Projecten bijhouden
Projectfacturering
Projectplanning
Rapportage en analyse
Realtime updates
Roosterbeheer
Samenwerkingstools
Schattingen
Status bijhouden
Taakbeheer
Taakplanning
Tijd bijhouden
Tijd en onkosten bijhouden
Vergunningenbeheer
Verkoopgoedkeuring
Verzendbeheer
Voor commerciële en/of industriële installateurs
Voor de AEC-sector
Voorraadbeheer
Voorstellen genereren
Voortgangsrapporten
Ruth M.
Director in
Geverifieerde LinkedIn-gebruiker
Design en ontwerp, 11-50 werknemers
Heeft de software gebruikt voor: 1-5 maanden
Bron: GetApp
Excellent full-on project management software
Opmerkingen: This is a package aimed at construction professionals and provides a thorough means of managing multiple projects across multiple people and teams including architects, designers, and subcontractors. It is a significant investment not a simple free app, and needs to be approached as such. The implementation is pretty straightforward and the customer support excellent.here remain some annoying features, but the support team are responsive and it is clear that significant investment if still being made into improving the software.
Pluspunten:
Much better than the competition at managing a range of projects across the things you need in construction - RFI,s , punch/snag list (we use this for internal "to do" items) and critically the main contract variations- this is a bit clunky but REALLY effective when you get the hang of it - meetings recording is again a trifle clunky but very effective so I forgive it For the first time in 15 years I have proper oversight across all projects (typically around 40-60) and can manage the progress of each from my iPad wherever I am. Site logging app very powerful Clients love the visibility Document handling with version control is brilliant
Minpunten:
The only really annoying feature is that the company level information (ie visibility across projects, personal "open items" lists and financials) is only available on the browser version not the app. The directory and permissions systems are well intentioned but actually you have to subvert them a bit as to do anything useful people really need full admin rights (even to add a contact to a directory- if this is to be used as the main shared company contacts directory we need everyone to be able to do that). I am happy to give my people that, but I can imagine a lot of companies where you don't want all your staff to have access to budgets and financials. It is expensive- we think it a great investment at this time, but it is nonetheless expensive. if you are looking for a cheap app this is not the one for you. The us-centric language and set up is a minor irritation- the partial attempt at making it Anglophile (changing a few of the function names) is actually worse than useless as the changes just confuse people- the training videos refer to the US terms for things and you can get used to pretty fast, but then they are not called that on your screen. I would love to be able to customise some of the standard PDF outputs Drawings handling a bit clunky, particularly markups- brilliant idea and conception but difficult to use as you can't undo markups once you have done them which makes people risk averse in case they cock it up- I am confident this will improve
Kyle D.
Senior Estimator in VS
Restaurants, 51-200 werknemers
Heeft de software gebruikt voor: 1-5 maanden
Overwogen alternatieven:
Best available for Document and Project Management
Opmerkingen: Overall their customer support team has been great helping us in training and getting up to speed with implementation and helping with custom solutions tailored to our unique business needs.
Pluspunten:
Procore is arguable the top document and project management solution in the market. Great cross platform functionality and top customer service.
Minpunten:
A lot to be desired in their bidding/estimating functionality, but they are active in releasing updates and improved functionality so I hope this gets better over time.
Chaya K.
Director of Operations in VS
Bouw, 11-50 werknemers
Heeft de software gebruikt voor: 1+ jaar
Procore for Mid-Size General Contractors
Opmerkingen: The project management tools do allow for strong collaboration on issues and to have a lot of the pieces of a construction project in one place. Perhaps if Procore would have had a more flexible subscription option, and allow for use of the PM tools without paying for the tools we couldn't implement, we would have wanted to continue our subscription longer.
Pluspunten:
Strong Project Management capability including Contact Management per job, Submittal & RFIs workflows and approvals with ease of communication on mobile devises. Also, syncing with Microsoft Project schedules is a time-saver, and allows views for updated project schedules in calendars. On a customer support level, I did find the live chat very helpful as well as all the Procore tutorials on the various features. I also greatly valued how documents could be uploaded and the system would recognize the drawing page references and label accordingly when saving.
Minpunten:
Insufficient as a sole source for accounting services, and does not support information transfers in/out of QuickBooks desktop versions (even with support of Procore connectors). Therefore, accounting team needs to duplicate efforts and manually update prime contracts. Additionally, the accounting module does not really communicate with the project management module so challenged to know as a team what stage project is in, and no easy way to get budget forecasts. Also, navigation around the program was not very logical and user-friendly for many staff members. Lastly, when we experienced a big hurdle with the accounting features, it took months to speak to a support representative who could talk through the issues. Perhaps if Procore would have had a more flexible subscription option, and allow for use of the PM tools without paying for the tools we couldn't implement, we would have wanted to continue our subscription longer.
Lori R.
Project Administrator in VS
Bouw, 2-10 werknemers
Heeft de software gebruikt voor: 1-5 maanden
Bron: SoftwareAdvice
Overwogen alternatieven:
Procore for Construction
Opmerkingen: While I have used it for many years, my client is new to it, so more to come....
Pluspunten:
I like that all data is in one place and easy to access. We can set up workflows to automate tasks. We can allow our clients limited access to thier project.
Minpunten:
Software is pricey, although it does deliver. It would be nice to have it accessible to more smaller companies by reducing cost. Sometimes it can be a learning curve for new users depending on what tools they are using, however with the 10+++ support and great tutorials, most pick it up quickly.
Anurup M.
Senior Engineer Cost Control in Jordanië
Bouw, 501-1.000 werknemers
Heeft de software gebruikt voor: 2+ jaar
It supervises all functions and organizes project document storage.
Opmerkingen: The most essential aspect of Procore is that it provided us with an integrated system and procedures that allow us to ensure that all duties, as well as the process of issuing reports and other papers, are completed correctly. It also allowed us to keep track of all documents and reports, as well as their status, to minimize delays in their distribution or disruptions on the job site.
Pluspunten:
I appreciate the fact that Procore is one of the best cloud-based construction project management platforms, as its capabilities are tremendous in organizing all functions, storing project data, and providing collaborative capabilities to all project stakeholders, allowing them to track all project details with pinpoint accuracy. I appreciate how easily I can track any task and know its status and details, as well as how easily I can request a report or work delivery from subcontractors. It's nice to have all of the tools we need for reporting and monitoring subcontractor performance in one location, and I particularly appreciate how all project documents are preserved in a specific order so that we can keep track of their progress and easily return to them when needed.
Minpunten:
It takes a lot of effort to use it effectively, and I don't think we'll be able to produce positive outcomes unless we thoroughly train the team and other project partners on how to use all of the tools and collaborate with them. It's worth noting that Procore offers customer assistance and integrated training sessions that help us learn how all of the tools work and how to utilize them effectively.