Ideta
Wat is Ideta?
Met Ideta kunnen bedrijven zonder enige codering hun eigen chatbot/voicebot ontwikkelen. Je kunt je bot inzetten op verschillende communicatiekanalen zoals je bestemmingspagina, Facebook Messenger,
Meer informatie
een telefoonnummer (Twilio...), Slack, Microsoft Teams enz. Je kunt zonder enige codering via API verbinding maken met alle software. Je kunt zonder enige codering de beste natuurlijke taalverwerkingstools gebruiken (bijv. Dialogflow, Luis, Watson) en moeiteloos overschakelen van de ene naar de andere.
Minder informatie
Wie gebruikt Ideta?
De doelmarkt is bedrijven die conversationele AI willen gebruiken, maar zonder al de gebruikelijke rompslomp. De gebruiksscenario's zijn zeer gevarieerd, van HR tot IT en marketing. Alles wat je maar kunt bedenken is mogelijk.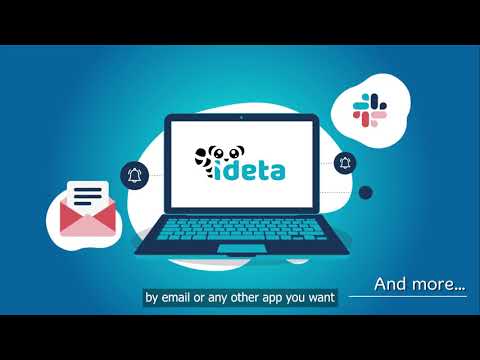 Twijfel je over Ideta? Vergelijk met een populair alternatief
Gratis versie
Gratis proefversie
Gratis versie
Gratis proefversie
Waarom krijg ik dit te zien?
Zachary
President in VS
Geverifieerde LinkedIn-gebruiker
Computersoftware, 2-10 werknemers
Heeft de software gebruikt voor: 1+ jaar
I wouldn't run my business without Ideta.
Opmerkingen: We are incredibly lucky to have found such a partner. I wouldn't run our business without them.
Pluspunten:
Incredibly easy to use. Links and syncs quick, and has had 99% uptime since implementing
Minpunten:
The UI does need tweaking. But after hearing the user feedback they already started making proactive and positive changes
Edison Augusto
CEO in Colombia
Computernetwerken, 2-10 werknemers
Heeft de software gebruikt voor: 1-5 maanden
Overwogen alternatieven:
Great chatbot and easy to use
Opmerkingen: The time I've been there has seemed to me an application of a very good level and very advanced functionalities (more than expected). I was positively impressed with everything it brings.
Pluspunten:
The application has many interesting features and the possibility of extending its options with dialogflow. I think it's one of the best apps I've ever bought. After you understand the interface well, you can easily implement the chatbots and adapt them to the requirements of my clients.
Minpunten:
the interface is difficult to understand, and the options could be improved depending on where they are placed, as well as the editor, which can be improved compared to other chatbot applications. I hope they improve that part.
Youness
Digital innovation officer in Marokko
Landbouw, 10.000+ werknemers
Heeft de software gebruikt voor: 6-12 maanden
Ideta review
Opmerkingen: we were solving acces management to our headquarter
Pluspunten:
its easy and self service chatbot plateforme for creating chatbots
Minpunten:
some software buggs during the production
Reactie Ideta
3 jaar geleden
Thx for helping us making this product better.
Jorge
CEO & Founder in Mexico
Marketing en reclame, 2-10 werknemers
Heeft de software gebruikt voor: 1-5 maanden
Overwogen alternatieven:
Simple, easy to use chatbot with lot of power
Opmerkingen: I had a great experience using Ideta. Although easy to use, is full of features that I havent seen in other chatbots and I believe is really promising. For example the comments automation for Facebook. The more I know the software, the more I enjoy it.
Pluspunten:
The capabilities it has for implementing a chatbot on your website. Has sliders with images for your client to chose from, easy to use dialog and store of important data. Also has out of the box validation for email (really important in my opinion) and a "are your still there?" automatic dialog.
Minpunten:
Some out of the box features that I need to work around to cover, like Google Ads integration and some specific entities store in NLP (Dialogflow specifically). Im confident that the development team is covering this sooner than later so Im looking forward to develop new projects with Ideta.
Vinnie
Online Marketing in Australië
E-learning, Zelfstandig ondernemer
Heeft de software gebruikt voor: 1-5 maanden
Highly Recommended
Opmerkingen: The software works beautifully and it's packed with powerful features such as the possibility of sending images, videos, links, etc in your conversation, which is very handy as a chatbot to automate conversation flow. Its package also offers a very generous number of conversations you can have per tier making it a great opportunity for those who want to use it as a small agency and build chatbots for other business owners. The only downside in my opinion is their thinking behind the conversation flow building. Most software uses that drag-and-drop canvas to build the conversation flow, whereas Ideta's developers have to build a totally different way to do it making it a bit hard to start since you have to adapt yourself to their tool, but once you learn how it works, it super easy. It's just that initial first contact with the tool that can be a bit time and energy-consuming, and I was told that they're looking to improve it to the traditional drag-and-drop in a conversation with the team.
Pluspunten:
- A lot of handy features - Very generous package - Best value for money - High-quality customer support -Highly customizable
Minpunten:
They have their own unique way of building a chat conversation that differs from the traditional "drag-and-drop" flow.