Wat is Connecteam?
Plan taken en houd de tijd bij met Connecteam's alles-in-één app die zowel krachtig als gebruiksvriendelijk is, en speciaal is ontworpen en gebouwd voor medewerkers zonder bureau. Planning omvat geavanceerde mogelijkheden zoals verzending met slepen-en-neerzetten-functie, privé of ploegendiensten, uploaden van ploegendiensten via Excel en nog veel meer om je planningervaring snel, gemakkelijk en productief te maken. Geniet ook van de enige echte ploegensamenwerking met GPS-statusupdates, notities en geïntegreerde chat. Vanaf slechts $ 29/maand voor maximaal 200 gebruikers.
Wie gebruikt Connecteam?
Voor alle brancheverticalen die teams van medewerkers zonder bureau bedienen.
Waar kan Connecteam worden geïmplementeerd?
Cloud, SaaS, Web, Mac (desktop), Windows (desktop), Android (mobiel), iPhone (mobiel), iPad (mobiel)
Over de leverancier
Connecteam
Gevestigd in New York, VS
Opgericht in 2015
Telefonische ondersteuning
Chatten
Beschikbaar in deze landen
Australië, Canada, Verenigd Koninkrijk, Verenigde Staten
Over de leverancier
Connecteam
Gevestigd in New York, VS
Opgericht in 2015
Telefonische ondersteuning
Chatten
Beschikbaar in deze landen
Australië, Canada, Verenigd Koninkrijk, Verenigde Staten
Video's en afbeeldingen van Connecteam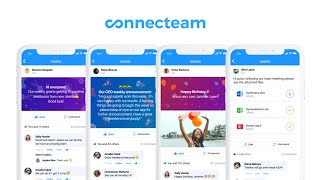 Vergelijk de kosten van Connecteam met soortgelijke producten
Functies van Connecteam
360-gradenfeedback
Aanpasbare branding
Aanpasbare rapporten
Aanpasbare sjablonen
Aanpasbare vragen
Aanstellen (van personeel)
Actiebeheer
Activiteit-/nieuwsfeed
Activiteiten van werknemers monitoren
Activiteiten volgen
Activiteitendashboard
Administratie voor werknemersvoordelen
Adreslijstenbeheer
Afsprakenbeheer
Apparatuurbeheer
Archiveren en retentie
Aselecte indeling
Automatische tijdregistratie
Automatisering van bedrijfsprocessen
Beheer van chauffeurs
Beheer van onderaannemers
Beheer van profielzichtbaarheid
Beheer van technici
Beheer van verlofuren
Benchmarking
Beschikbaarheidsbeheer
Bestanden delen
Bestandsopslag
Beveiligde gegevensopslag
Bibliotheek met opmerkingen
Brainstormen
Brandstoffen bijhouden
Capaciteitsplanning
Catalogiseren/categoriseren
Chatten/messaging
Communicatie via meerdere kanalen
Communicatiebeheer
Compliance bijhouden
Compliancebeheer
Contactenbeheer
Contactendatabase
Contentbeheer
Contentbibliotheek
Controle van goedkeuringsbeheer
Cursusbeheer
Cursussen bijhouden
Cursussen opstellen
Cursussen publiceren
Discussies / forums
Distributie via meerdere kanalen
Documentbeheer
Documenten capture
Documenten opslaan
Elektronische formulieren
Elektronische handtekening
Enquêtes en feedback
Enquêtes opstellen
Erkenning van medewerkers
Evenementenbeheer
Evenementplanning
Faciliteitsplanning
Facility asset management
Feedbackbeheer
Formulierbeheer
Formulieren maken en ontwerpen
Foto's toevoegen & bewerken
GPS
Geautomatiseerde planning
Gebruikersbeheer
Gegevens importeren en exporteren
Geofencing
Geografische kaarten
Geolocatie
Goedkeuring van profielwijziging
Grafische workfloweditor
Groepenbeheer
Herinneringen
Herkenningstracking
Historische verslaglegging
Huishoudbeheer
Ideevorming
Incidentenbeheer
Inschrijving voor online voordelen
Integratie in de administratie
Integraties van derden
Interactief leren
Kalenderbeheer
Kalendersynchronisatie
Kennisbankbeheer
Kennisbeheer
Klantendatabase
Lay-out en design
Ledenlijst
Leermanagement
Leveranciersbeheer
Lidmaatschapsbeheer
Live chatten
Locatie bijhouden
Messaging
Mobiel leren
Mobiele app
Mobiele tijd bijhouden
Mobiele toegang
Onderhoudsbeheer
Online ponskaart
Online reserveren
Online tijdklok
Online tijdregistratie software
Op rollen gebaseerde toestemmingen
Opdrachtenbeheer
Opmerkingen/notities
Oriëntatieworkflow beheren
Overurenberekening
Payrollbeheer
Peer-to-Peer herkenning
Percentage-voltooid bijhouden
Personeelsbeheer
Personeelsfoto's
Personeelshandboek
Personeelslijst
Personeelsplanning
Plannen
Ponskaart
Prestatiebeheer
Prestatiemeetwaarden
Productiviteitsanalyse
Providerbeheer
Pulse surveys
Rapportage en analyse
Rapportage en statistieken
Realtime chatten
Realtime controle
Realtime meldingen
Realtime planning
Realtime updates
Resourcebeheer
Rich Text Editor
Roosterbeheer
Samenwerkingstools
Servicegeschiedenis
Sjablonen
Slepen en neerzetten
Sociaal leren
Sollicitantenbeheer
Status bijhouden
Subtaken maken
Taakbeheer
Taakplanning
Taakvoortgang bijhouden
Taken bewerken en bijwerken
Taken labelen
Tekstbewerking
Terugkerende afspraken
Terugkerende taken
Thuiszorgbeheer
Tijd bijhouden
Tijd en aanwezigheid
Tijd en onkosten bijhouden
Toegang en controle op afstand
Toegangsopties/machtigingen
Touchscreen
Trainingbeheer
Trainingsbeheer
Transcripten/chatgeschiedenis
Transportbeheer
Uniforme directory
Vaardigheden bijhouden
Vacatures
Vakantie en verlof bijhouden
Verlof bijhouden
Verlofaanvragen
Verzendbeheer
Virtueel toetsenbord
Voertuigen bijhouden
Volgen en analyseren van gebruik
Voor HVAC-bedrijven
Voor de installatiebranche
Voor gazononderhoud
Voor meerdere talen
Voor uitzendbureaus
Voorraadbeheer
Voortgang bijhouden
Voortgangsrapporten
Vragenbibliotheek
Waarschuwingen/Meldingen
Werknemersdatabase
Werknemersprofielen
Werkorderbeheer
Wisselen van dienst
Woninginspecties
Workflowconfiguratie
Zelf leren
Zelfserviceportal
Ziekteverlof bijhouden
Zoeken in gehele tekst
Zoeken/filteren
Scott W.
Director of Operations in VS
Geverifieerde LinkedIn-gebruiker
Informatietechnologie en -diensten, 2-10 werknemers
Heeft de software gebruikt voor: Gratis proef
Overwogen alternatieven:
Most Valuable APP for SMB Ever
Opmerkingen: Our company utilizes employees here in the US, and numerous remote employees in the Philippines (less than 20 employees). We had one solution for scheduling, another program for task and project management, another app for messaging, and a cloud-based program for time-tracking. Until we found ConnectTeam. Everything we needed (plus more), all in a single solution. Not only did we cut our previous costs by 80%, everything is now in a single solution.
Pluspunten:
- Only add the functions you want. Not encumbered by bloatware or features we will never us. - EXTREMELY intuitive. Once create an account, do the 5 minute walkthrough and you feel confident enough to manage yoir company. - Their FREE option is actually very useful and includes 80% of the features. - FLAT-FEE pricing! Once you decide to upgrade (we chose $29 plan) No 'per-user' cost like virtually every other solution. One flat-fee and can add up to 200 users with no hidden fees. - 24/7 live support; even for the free account! When we first got started, we had a couple hiccups, and at 1:30am, their live support spent over an hour helping us get everything working perfectly (thanks again Noam). - Supports overseas employees in other countries natively. E.g. we have employees in Philippines, and the installed the app and verified their phone numbers via text on their Philippines phone with no issue. Can text-message filipino worked through app, even on free mode. - Messaging/chat options are way better than other messaging apps. Like 'voice' chat, and the ability to integrate other formats. Supports rich text. Take FB messenger, Sling, and viber and combine all the good features, and this is what you have. - GPS tracking of all remote employees.
Minpunten:
- At the time of writing this review, all admin features have to be done through website, and not through the app (though they say they are working on that). - Could use more hierarchy fratures, other than just basic. Would be nice to see customizable permissions for Administrators (may support but I didn't see). - App only supports Android and iPhone. No desktop app for Windows or Mac available.
Reactie ConnecTeam
2 jaar geleden
Hi Scott! Thank you so much for taking the time to write this amazing review! Please note that there's A LOT you can do as an admin from the app, under the the ADMIN tab. Make sure to reach out to us for further assistance if needed :)
Sarah L.
General Manager in VS
Gezondheid, wellness en fitness, 11-50 werknemers
Heeft de software gebruikt voor: 1-5 maanden
Overwogen alternatieven:
ConnectTeam helped us transition from a handful of productivity apps to ONE.
Opmerkingen: We are very satisfied with the app, as well as the service! Thank you for helping us work through the initial transition and we appreciate your team's attention to detail. Our staff have adapted to using the app with incredible ease and we are looking forward to using this as a tool moving forward.
Pluspunten:
The user-end is designed for mobile use, so it's super convenient and easy to use your personal mobile device to stay connected with the team. There are so many time-saving features available that take advantage of the tools we already have on hand and make an impact on our daily operations. The mobile app is clear, looks great, and even incorporated our logo into the initialization window. Very professional.
Minpunten:
Our previous scheduling software had quite a bit more clarity and control over schedule creation, shift swapping, time-off requests, and general management. ConnectTeam has a functional scheduling feature, which is honestly better than some of the other apps out there, but this aspect could use some improvement. As with any good app company, they have assured me they are continuing to develop this feature and will release any improvements in an update.
Reactie Connecteam
10 maanden geleden
Sarah, you're amazing :) Thank you so much for taking the time to write such a detailed review, and share with others about your positive Connecteam experience. At Connecteam, we do nothing else but building a product that helps companies manage their remote teams easily and efficiently, so as always, you can expect improvements coming out on a regular basis :) It's really great that you were able to combine so many other softwares into one and become more productive as a company. Thanks again, and please make sure to reach out to our team for more feedback and things you'd like to see in Connecteam :)
Sport, 2-10 werknemers
Heeft de software gebruikt voor: 6-12 maanden
Overwogen alternatieven:
Great software would recommend
Opmerkingen: I'm generally happy with it - the customer service is great.
Pluspunten:
The employee scheduling is so easy to use, it's a really intuitive design and you can implement it and get employees on boarded so quick with it
Minpunten:
I dislike that I can't book 1-2-1 sessions for employees - a live timetable I can send front end to customers so they can book my employees out per session. Would be a great add. It's also not cheap price wise.
Reactie Connecteam
4 weken geleden
Thank you so much for your review, Harry! It's great to know that you find Connecteam to be simple to use both for you and for your employees and that you're happy with our customer service :) Although Connecteam is an employee management tool, we already talk internally about adding capabilities for the business' customers to book their meetings directly in the schedule, so that's definitely something to look forward to in the future :) If you have any more feedback for us or would like to suggest an improvement, please reach out to us at [email protected] at any time :) Thanks again!
Michael B.
Director in VK
Geverifieerde LinkedIn-gebruiker
Facilitaire diensten, 51-200 werknemers
Heeft de software gebruikt voor: 6-12 maanden
Overwogen alternatieven:
User-friendly software with many features, but needs improvements around scheduling & time clock
Opmerkingen: We have been using the software for about 8 month now. Some problems have been resolved. A huge improvement was around open shifts. That feature was basically unworkable until a few months ago. However, no improvement in core functionality of job scheduling and time clock since then.
Pluspunten:
We mainly use software for job scheduling and time clock. Pros: It is easy to create a job and a shift Easy to add an employee Job scheduling views are good Training module (courses) has been useful
Minpunten:
The more employees and jobs you add, the slower it gets for admin users The jobs schedule opens slow on mobile phones The app users a lot of RAM memory on desktops If you have many shifts in the schedule, the app may start freezing The company often focuses on getting some minor features rather than improving their core elements, such as Job Schedule and Time Clock Not easy to go through Time Clock entries as the hours in Job Schedule are not shown. They claim that Time Clock and Job Schedule are synced, but sync only works for mobile users to clock in and out. There is no sync for admin users, who are checking the entries! Chat feature is undeveloped. It is easy to send information to staff, but it is not possible for field staff to have 1 clear communication channel. The job schedule shows names of the person, who created a job, so field staff have multiple conversation about various jobs, rather than have 1 point of contact. If the person who created the job is away, there is no way to see the message. So software creates a communication nightmare for admin and for field staff as well.
Reactie Connecteam
vorige maand
Thanks for the feedback, Michael. First, it sounds like you're experiencing some technical issues. Things should not load slow or freeze. The best we can suggest is to contact us so we can investigate your issues and have them resolved. As for the schedule and time clock sync, there might be a misunderstanding or unfulfilled expectations here, and we'd like to clarify: the sync doesn't mean that any scheduled shift will automatically create a time entry in a schedule. The schedule lets users know what they need to do, when and from where, but they must clock in and out for those entries to show in their timesheets. As for the chat - what's missing for you that you feel it's undeveloped? As for employees seeing who created a shift - that's 100% to your control as an admin. Simply remove this option from the scheduling settings menu. Would like to connect with us so we can see what can be done to assist you? Please email me personally at [email protected] :) Thanks!
Karen T.
Administrative VP in VS
Bouw, 11-50 werknemers
Heeft de software gebruikt voor: 1-5 maanden
Explore the features they are gems
Opmerkingen: I am getting the forms and documents I need from the field. They were using paper forms before this and would lose them, forget them...bottom line we would never get them in the office. Getting the documentation keeps us OSHA compliant and helps us with unemployment claims if we had a legit reason to terminate someone. Also, I cannot stress enough, their support is fabulous. I scheduled a training online and the rep that helped me, [SENSITIVE CONTENT], was phenomenal! She continues to reach out and offer to help. She showed me all of the extra features that I really did not anticipate using and I am so glad she did.
Pluspunten:
I love the ease of implementation. The software automatically sent invites to the users to download the app. The form creator gives so many options to use forms already created or to create one of your own. The forms are simple and can be signed from a mobile phone. Signatures are critical for documentation of training, write ups, injury reports etc.
Minpunten:
Unless a user purchases the expert version there are limits to the number of jobsites you can use GPS tracking on. With the level that we have we are limited to 10 jobs. I would be much happier with the ability to have 15 to 20 without having to upgrade. We are working with the limits of 10 for now because there really is a large jump in price.
Reactie Connecteam
3 maanden geleden
Amazing review, Karen! Thank you so much! It's great to hear Connecteam helps you better manage your business and team, save time, and automate day-to-day workflows. As for the capabilities you're looking to have in your plan without upgrading again, the best would be to communicate that to your Customer Success Manager at Connecteam and ask if there's something that can be done to help :) Thanks again for your positive detailed review!!